October 6th declared "Wizkid Day" in the US
Written by MaxFM on October 8, 2018
Ayodeji Ibrahim Balogun popularly known as Wizkid has become one of Nigeria's greatest export in recent times and this is connected with his recent achievement of having a day named after him in the United States.
The governor of Minnesota, Mark Dayton described Wizkid as "One of the most influential artists" on a night when he performed some of his hit singles like 'Soco', 'Manya', In My Bed' and 'Ojuelegba' before a sold out crowd, and as such, October 6th was declared "Wizkid Day"
According to the proclamation October 6th of every year will now be known as a state holiday called "Wizkid day" to celebrate the Nigerian born pop star.
The proclamation also stated that Wizkid achieved international recognition in 2016 following his collaboration with Drake on the global hit, One Dance thereby becoming the first indigenous Nigerian musician to score a number one hit on the popular US Singles chart.
The proclamation further stated that on the 6th of October which will henceforth be known as Wizkid day, thousands of Minnesotans will converge on Skyway Theatre in Minneapolis to see Wizkid perform.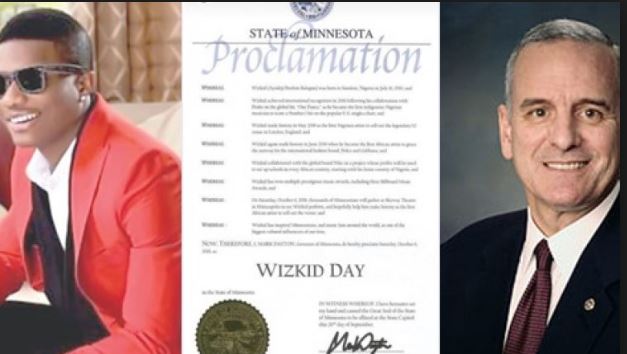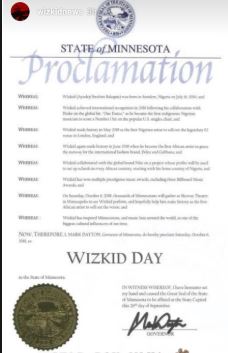 Starboy, Wizkid in an Instagram post, shared a video with the caption; "Sold out again last night! Love u Minnesota, y'all in my heart forever."
https://www.instagram.com/p/BopbYyWgDdL/?taken-by=wizkidayo
This is BIG for the Afrobeat artiste. We say a BIG congratulations to Starboy.
---