See Burna Boy's Grand Entrance At His Sold Out Concert In O2 Arena, London
Written by MaxFM on October 8, 2018
Popular Nigerian rapper, Burna Boy gave a mind blowing performance at his sold out concert at the Brixton Academy, O2 Arena in London which held yesterday, October 7 2018.
The venue was filled with crowd from different states and countries, who had gathered to see their superstar on his 'Life On The Outside' tour.
Burna Boy's performance on that night justified the excitement that his fans had ahead of the concert.
Advertisement

The whole of the O2 Arena lit up by a sea of phone lights, erupted the moment the DJ cued in the hit single, 'Ye', with Burna Boy jumping vigorously on the stage changing the atmosphere into a full dance hall festival.
Moreover, he performed both old and new songs as his set list covered some hits from his different projects, like 'Giddem', 'Halleluyah' and 'Devil in California' much to the relish of his fans and spectators.
His entrance to the stage was something spectacular. He made a grand entrance on the night standing on top of a convertible car that drive him right to the front of the stage.
Advertisement

See video below:
View this post on Instagram

Advertisement

Here is the entrance by @burnaboygram @o2academybrix 🔥🔥🔥🔥🔥🔥🔥🔥🔥🔥🔥🔥 cc @tundephoenix
Advertisement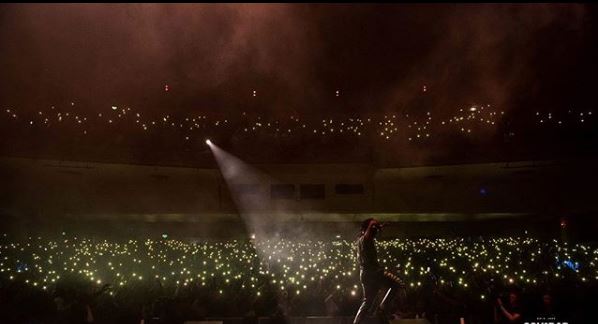 Advertisement

View this post on Instagram

#burnaboy #brixtonacademy #cardillac

Advertisement
Advertisement

---