Rihanna Hints She's Expecting Girl
Written by maxfmeditor2 on March 23, 2022
Singer Rihanna has given a major hint at the gender of her first baby as she was spotted shopping for clothes at Target.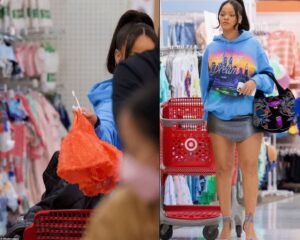 The singer caused a stir inside a Los Angeles branch when she showed up at an affordable store to shop for baby clothes.
The superstar is close to giving birth as she recently confirmed that she's in her third trimester.
Rihanna was spotted buying a baby-sized orange ruffle dress, which would suggest that she might be having a girl.
Fans looked on as she picked up clothes including onesies and socks for her soon-to-be-born baby. While she was spotted buying a baby dress, she also added some boys' items to her cart.
Fans have been speculating about the baby's gender as the due date approaches, however, neither she nor dad-to-be A$AP Rocky has confirmed the sex of their baby.
---