Rihanna Spotted With Donning Huge Diamond Piece on Her Ring Finger
Written by maxfmeditor2 on March 23, 2022
Rihanna donned a huge diamond ring on that finger while shopping for baby clothes in Los Angeles on Monday, March 21.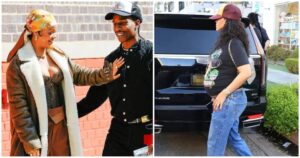 In addition to her sparkling accessory, a Sloan Solitaire ring from Briony Raymond.
The fashion mogul, 34, rocked a fitted Grave Digger t-shirt that just fit over her growing baby bump. The mom-to-be also rocked a pair of low-rise jeans, furry stilettos and a maroon-and-yellow trucker.
The pop star's outing comes days after she told Elle that she envisions herself being a "psycho" mother once her bundle of joy arrives.
"I feel like that's the type of mom I'm going to be. Psycho about it," she joked to the magazine.
---