Ruggedman reveals pregnant woman loses quadruplets due to SARS brutality
Written by MaxFM on January 10, 2018
Ruggedman reveals pregnant woman loses quadruplets due to SARS brutality
Musician Ruggedman shared a video of a pregnant lady who was allegedly attacked in Delta State by Federal sars officials and later revealed that the lady lost her pregnancy of 4 babies.
Ruggedman who made this revelation on his instagram post, wrote:
DELTA STATE FEDERAL SARS BRUTALIZE A PREGNANT LADY AND HER FRIEND.
All of us tagged here shall know no peace in 2018 until these particular heartless men are ARRESTED, PARADED IN PUBLIC and jailed.
If this was your pregnant sister being brutalised by animas what would you do?
#justicefortheinnocent
#pregnant #EndPoliceBrutality#ReformPoliceNG
PLS REPOST TILL WE HEAR FROM THE NIGERIAN POLICE ABOUT THE ARREST OF THESE CRIMINALS. #RepostForJusticeChallenge
#EnoughisEnough
In a follow up post, Ruggedman disclosed that the pregnant lady lost the pregnancy, and called for the immediate arrest of the officers.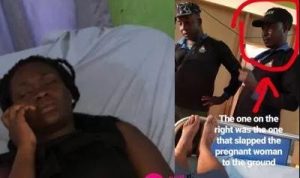 SHE WAS PREGNANT WITH QUADRUPLETS!
Federal sars have finally killed.
4 babies.
We just got word from @janemena that the pregnant lady that was brutalised by Delta state federal sars has lost the pregnancy.
The officers are from
Delta state, Asaba.
Zone 5
Gra headquarters
Back of macdons eatery and were driving a hilux with the license number NPF 6770C.
I hear the lady whose face is showing is one of the officers that orchestrated the assault.
Watch video below:
---