Samklef And Daddy Freeze In War Of Words On Instagram
Written by MaxFM on January 22, 2018
Samklef And Daddy Freeze In War Of Words On Instagram
Nigerian music producer, Samklef has gotten into a highly heated up social media fight with Controversial OAP, Daddy Freeze, convener of the "Free The Sheeple Movement".
The controversial OAP who is the leader of the school of thought that forbids paying tithes to the Church Of God recently criticized a news about the healing of a mentally derailed man at RCCG church.
Samklef, who appeared to be fed up of Freeze's everyday antagonistic statements against the church, stood up to him and said his criticism on churches is getting boring. Daddyfreeze gave a pretty unpleasant response and dirty exchange started.
Freeze fired back, referring to the producer's career as an Egyptian mummy well preserved and buried.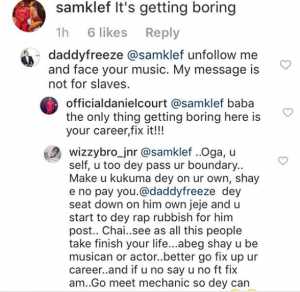 Samklef has now responded. See his tweet below
Daddy freeze Aka daddy faggot said my career is dead. I laugh 😂😂 Noni. so is that what a yoyo who condemns other men of God is suppose to be teaching? Using fake account to comment and preach hate……brozay go wash ur brain, you be my boi noni.

— PRESIDENT SAMKLEF (@SAMKLEF) January 22, 2018
---