See What Neymar has to say about Ronaldo
Paris Saint-Germain's forward Neymar spoke about his respect for Real Madrid talisman Cristiano Ronaldo, who he will go up against soon in the UEFA Champions League in a recent interview.
"I respect Cristiano very much, he is the mirror where I see myself, he said. "He has been at the top of his game for ten years. I am trying to get close to those players."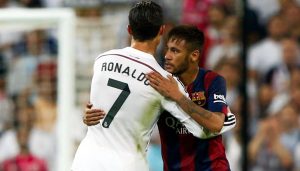 PSG and Real meet in the UCL in two weeks in the round of 16, but it is not just Ronaldo that Neymar is worried about.
"Madrid will not only be Ronaldo; him and many other good players create danger,"he said. "I wish the game was the final, but this one will be upon us very quickly."
---