Timaya Spends Thousands of Dollars On New Baby as He Dumps Old Girlfriends
Written by maxfmeditor2 on June 8, 2022
Inetimi Timaya Odon, better known by his stage name Timaya, is a Nigerian singer and songwriter. He hails from Odi, Bayelsa state. Timaya is the founder of DM Records Limited.
Timaya made a shocking reveal on his social media page recently as he revealed dumping his old girlfriends for a new baby. He further introduced his new baby to every one as FERARI 458 Iconic with stunning pictures. His caption reads:
"I left my gal friends and got a new baby. FERARI 458 Iconic. CHULO way…"

About FERARI 458 Iconic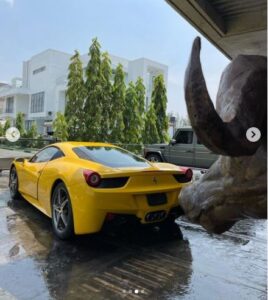 Ferrari's 458 Italia (Type F142) is a mid-engine sports car. The 458 took the place of the F430 and was first seen at the 2009 Frankfurt Motor Show. The 488 GTB (Gran Turismo Berlinetta), which debuted at the 2015 Geneva Motor Show, followed it.
The 458 was touted as the successor to the F430 but originating from a completely new design, using technologies acquired from Ferrari's Formula One experience in the company's first official introduction of the car. Magneti Marelli invented the body computer system.
In the 458, the F136 V8 engine was employed. The 458 is powered by a 4,497 cc (4.5 L; 274.4 cu in) F136 V8 engine that produces 570 PS (419 kW; 562 horsepower) at 9,000 rpm (redline) and 540 Nm (398 lbft) of torque at 6,000 rpm[9], with 80 percent torque available from 3,250 rpm. Direct fuel injection is used in the engine, which is a first for Ferrari mid-engine arrangements in road cars.
The only transmission available on the 458 is a 7-speed dual-clutch automatic gearbox by Getrag, in a different state of tune shared with the Mercedes-Benz SLS AMG.[8] There is no traditional manual option, making this the first mainstream model to not be offered with a manual transmission.
Congratulations to Timaya on his the arrival of his new baby.
---