Timaya Threatens To Beat Ubi Franklin, Tells Him To Focus On New Job
Written by maxfmeditor2 on March 30, 2022
Nigerian musician Timaya has threatened to beat music promoter Ubi Franklin for the second time.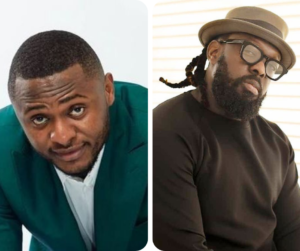 The 40-year-old made this threat this morning, reminding Franklin of how he beat him up last year in January, promising to repeat it again if he doesn't focus on his new job as Ifeanyi's nanny.
"Ubi Franklin u remember the beating I gave u in January last year? Don't let me beat u again and pls I like your new JOB. As Ifeanyi's NANI and pls don't mess it up. Davido is a good guy he can make ur life. Pls focus on ur new JOB. Thanks," he tweeted.
Ubi Franklin u remember the beating I gave u in January last year? Don't let me beat u againit,and pls I like your new JOB. As Ifeanyi's NANI and pls don't mess it up. DAvido is a good guy he can make ur life. Pls focus on ur new JOB. Thanks

— Timaya (@timayatimaya) March 30, 2022
In response, Ubi Franklin tweeted;
"Timaya is so petty. You are angry cos I told how wrong it was to knock a woman down and leave here to her fate. You come to talk trash here today? I am not a person that will see wrong and keep quiet. You were wrong to have knocked that's woman down and left her there. Period."
Timaya is so petty.
You are angry cos I told how wrong it was to knock a woman down and leave here to her fate.
You come to talk trash here today?
I am not a person that will see wrong and keep quiet.
You were wrong to have knocked that's woman down and left her there.
Period.

— ubi Franklin ofem (@ubifranklin1) March 30, 2022
---