Turkey Wants NBA Star Jailed for Insulting President Erdogan
Written by MaxFM on December 21, 2017
Turkey Wants NBA Star Jailed for Insulting President Erdogan
A Turkish prosecutor asked for NBA's New York Knicks star Enes Kanter to be jailed for up to for insulting Turkish President Tayyip Erdogan.
Kanter's passport was revoked by Turkish authorities earlier this year, and an arrest warrant was issued after he was named a "fugitive" by a Turkish court over his support for U.S-based Islamic preacher Fethullah Gulen, whom Ankara accises of orchestrating an attempted coup in July 2016.
Kanter is a long-time supporter of Gulen, who has lived in self-imposed exile in Pennsylvania since 1999 and whose extradition Erdogan is seeking.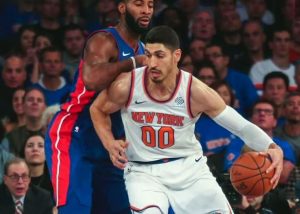 Last year, Turkish media published a handwritten letter signed by Kanter's father, Mehmet, disowning a son he accused of having been "hypnotized" by the Gulen movement.
In response, the 25-year-old Kanter – the third pick in the NBA draft when he joinedUtah Jazz in 2011 – said he was dedicating himself to Gulen and the Cleric's Hizmet (Service) movement.
---