Uche Maduagwu slams Bisi Alimi for insulting Pastor Adeboye
Written by MaxFM on December 7, 2017
After the US based gay activist, Bisi Alimi took to Twitter to insult Pastor Adeboye, the General Overseer of RCCG, actor, Uche Maduagwu took to Instagram to slam back Bisi Alimi for insulting the man of God. See Bisi Alimi's tweet below: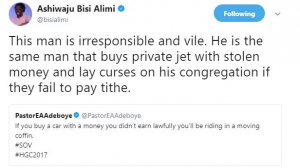 Uche Maduagwu's then said:
'If you say pastor Adeboye is irresponsible, then you are incredibly abominable too @bisialimi #Look at this cretin that thinks with his anus,?? so you too have joined your "yoyo" #friend to criticizing men of God abi? Wetin person no go see for #naija…?? It's only in #Nigeria that people who #swim in the pool of adultery, and those who perpetually thinks with their colorful anus, boldly points accusing fingers at pastors.??? But can we really blame these #guys? If a "mad person" is #dancing on the street, and people ignore him, he would eventually stop, but when little #children are clapping, and singing for such a "mad person", he'll think everyday is #Christmas.? Honestly, i never knew a day like this would come when someone like @bisialimi would also put on his Almighty diapers to shamelessly insulting an elderly #pastor, who is old enough to be his #father. It means the leakages on your buttocks has finally beclouded your sense of reasoning.? You don't need counseling dear, you need deliverance with cane, rubbish.
https://www.instagram.com/p/BcXHQh-FVkj/?hl=en&taken-by=uchemaduagwu
---