Usain Bolt To Play At Old Trafford in 2018 Soccer Aid Charity Match
Written by MaxFM on February 27, 2018
Usain Bolt To Play At Old Trafford in 2018 Soccer Aid Charity Match
Usain Bolt has revealed which football team he has signed for after announcing he will play at Soccer Aid 2018 at Old Trafford.
The fanatical Manchester United fan, and fastest man on the planet, will captain the 'Rest of the World' XI against Robbie Williams' 'England' side on Sunday, June 10.
Soccer Aid has previously featured such footballing luminaries as Diego Maradona, Zinedine Zidane and Peter Schmeichel, along with celebs such as Will Ferrell, Woody Harrelson and James McAvoy.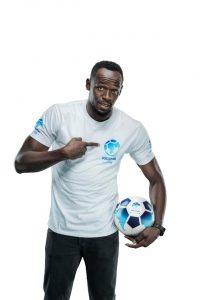 "It is my dream to make it as a professional footballer, so to be able to step out onto the pitch at Old Trafford in June, and play against some of football's biggest legends is going to be remarkable," he told United's official website.
"I enjoy the thrill of competition in front of a crowd, so Robbie and his England team better watch out as I won't be going easy on them!
"I've got a pretty special celebration planned for when I score, by the way.
"My team is going to be unbeatable – and Soccer Aid for Unicef is counting on your support to make a difference to thousands of children around the world. Come and join in the fun!"
Excited to announce that I will be playing in @socceraid for @UNICEF_uk 2018 at Old Trafford on Sunday 10th June. Make sure you're ready @robbiewilliams! ⚽️🌍 pic.twitter.com/t2sDB1iLP8

— Usain St. Leo Bolt (@usainbolt) February 27, 2018
Bolt revealed on Sunday that he had signed for a football team and that he would be making the announcement on Tuesday.
There was a suggestion he would be joining Mamelodi Sundowns, who Bolt trained with in January, after the South African side responded to the Jamaican's tweet.
However, it has turned out that Bolt will be playing in the Soccer Aid charity match instead, which takes place four days before the World Cup starts in Russia.
Soccer Aid has raised over £20 million for UNICEF and the first match took place in 2006. England won the 2016 edition 3-2, with celebrity Mark Wright scoring once and former Three Lions striker Jermain Defoe netting twice.
An eight-time Olympic gold-medallist, Bolt set new records for the 100 metre and 200 metre sprint races, dominating the athletics scene for over a decade before retiring in 2017.
Throughout his career in athletics, Bolt often spoke of his desire to eventually make a transition into football and, while this won't be a foray into the professional ranks, it will give him the chance to play at Old Trafford.
---