Emery Denies Surgery Claims On Neymar's Injury
Paris Saint-Germain's coach, Unai Emery has dismissed reports Neymar is due to have surgery on his fractured foot that would keep him out until May.
The Brazilian star was forced off the Parc des Princes pitch in tears on Sunday after suffering the injury in an innocuous-looking incident.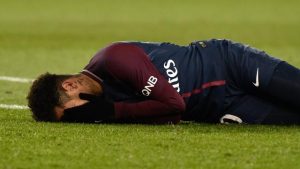 Advertisement

PSG won the match 3-0, but Neymar's injury marred the contest, as he rode a challenge from Bouna Sarr and twisted his ankle upon contact with the turf, while also suffering a hairline fracture to his foot.
It had been reported by numerous news outlets that Neymar had decided to have surgery in order to completely solve the problem and minimise the risk of the injury impacting his World Cup.
Those reports claimed the surgery would keep Neymar out for most of the rest of the season, suggesting he could return no earlier than May.
Advertisement

However, Emery addressed the situation during his pre-match news conference ahead of Wednesday's Coupe de France clash with Marseille, simply declaring the speculation as "not true."
"Neymar is not going to be operated on, that's not true," Emery told reporters. "I talked to the doctors and we're still to make a decision.
"We'll see the passing of the next few days to make a decision. This is a moment of calm.
Advertisement

"There is a small chance for Neymar to be able to play against Real Madrid – we have to be patient.
"Now the most important thing is PSG. All the players are ready, and Neymar was the first to want to play all the games, focused to get to Real Madrid as well. But the focus of everyone is PSG."
Advertisement

---