[Video] MI Set To Marry His Heartthrob
Written by maxfmeditor2 on April 4, 2022
Nigerian rapper, Jude Lemfani Abaga a.k.a MI, has announced his plans to get married later this year to his heartthrob, Eniola Mafe.
The multiple award-winning rapper yesterday took to social media to reveal to his fans and followers that he is set to walk down the aisle with his heartthrob.
The two lovebirds have taken to social media to share a beautiful video detailing how they met, sweet moments together, the proposal and BTS moments from their pre-wedding shoot.
Abaga in his post narrated how he got introduced to Eniola by Audu Maikori of Choccity back in 2020.
He asked for people's support and blessings as he embarks on the journey to tie the knot with his lover for eternity.
In his post, he wrote,
"I'm a private person. But it's time to share a little part of my joy with you.
@eniolamafe and I met in Dec 2020 and straight away I knew I had found the one. I am excited to announce that we are getting married this year.. and we ask for your support and blessings as we embark on this journey together. ♥️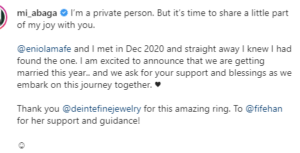 Thank you @deintefinejewelry for this amazing ring. To @fifehan for her support and guidance!."
In the same vein, Eniola on her Instagram page wrote: "Forever, in Every Lifetime. Why?!?! Because we did the work ❤️
---