'We Are Prostitutes' Tonto Dikeh Laments After Spotting Friend's Husband With A Popular Actress
Written by AaronWeb on February 25, 2019
A popular Nollywood actress is presently in Dubai frolicking with her best friend's husband, Tonto Dikeh says.
Tonto Dikeh's plan was visiting Dubia for fun and for business, but on spotting a popular actress with the husband of her best friend is making her go real crazy.
The movie star dropped the bombshell via her Instagram stories on Monday, February 25, 2019. In the post, she expressed her shock and dismay over the action of the actress and even threatened to reveal the identity of the actress.
"God please we are ready just blow the trump…I mean how can leave your wife in Nigeria and bring her actress best friend to trip to Dubai??? Women I wish yall know these men we marry!! I'm livid and if anyone of you call my phone, I'll expose you! (To the actress you need to buried alive!! After all the famzing wife you betray her in such a way!! No wonder the say we are prostitutes!!" she wrote.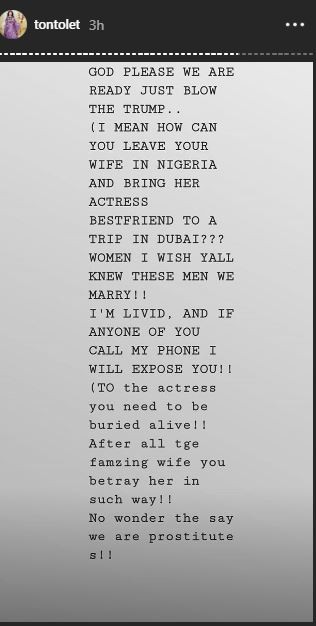 The big question now is do you want Tonto Dikeh to reveal the identity of this popular actress?
---