What is Max Laugh? Opyalow emerges winner for the first episode
Written by Max1023fm on September 30, 2021
Max laugh is an initiative where young talents in the comedy industry are empowered. This campaign aims to generate the next big thing in the comedy industry, i.e., bringing out the "Next Most Sought-After Nigerian Comedian" This initiative promotes and empowers Nigerian youths in the entertainment industry.
Max Laugh initiative is broken down into five stages.
Call for entries
Selection and voting for top 20
Selection and voting for top 5
Selection and voting for top 3
Grand final and winner presentation
Max Laugh is sponsored proudly by Minimie and Rosemont properties. Max laugh would be a segment of Wetin dey on Max FM hosted by Wale pow pow, Obus, punki Aboki and Baby Lawyer.
The first episode of max laugh was held on the 27th of September 2021 and four contestants came in to battle for a stay in the competition having 60 seconds each to prove their selves worthy on the Wetin Dey show. The judges for the episode were, Wale Pow Pow, Obus and our guest judge Forever.
Our four contestants for the first episode were: Opyalow, D warriguy, Dadisolox and John Henry. The voting procedures were broken into three parts.

The judges: Wale Pow Pow, Obus and guest judge Forever.
Radio calls: we had our listeners call in to vote for their winner.
You Tube vote: we collated the votes from our live stream on our YouTube channel.
At the end of the first episode, Opyalow emerged as our winner and has been qualified for the next stage.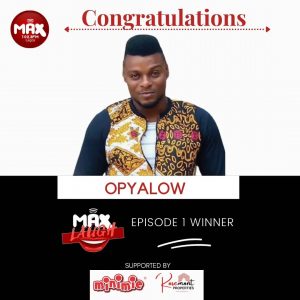 #maxlaughs
---