Women Expect Transport Fare From Guys When Out On Dates
Written by maxfmeditor2 on March 2, 2022
A discussion ensued among some Nigerian women on the reasons they expect their date should offer them transport fare after the outing and the video of this conversation has gone viral.
During the chat, two women and a female moderator discussed these expectations women have from men on their date.
They explained that they expect transport fare after their date due to the fact that they have spent so much money while preparing for the date.
One of the ladies expanded on things they spend more examples are paying a makeup artist to get ready, trying out different dresses, putting on an expensive wig, and then transporting to the venue. She said it is only ideal that the date show appreciation for her efforts.
She said, "I always expect, 'oh, it was nice meeting you o, just take'".
The host inquired that are women now going on dates just to make money to which the other lady responded that being pretty is expensive. She stated, "No, it's not about making money. Do you know the cost of being a fine girl in Lagos? It's expensive,".
Uriel, however, has reacted to women expecting transport fare after dates with men. She expressed herself saying her mother raised her well in this regard. She listed a few tips, "Never order something you can't afford at first. Always carry money in your bag for safety purposes (some guys will surprise you order food and run). Decorum is everything!! There will plenty of days for him to spoil you, but why not spoil yourself by going home with a clear mind and not being manipulated by his money. She asked "Do you really like him or his taxi fare?"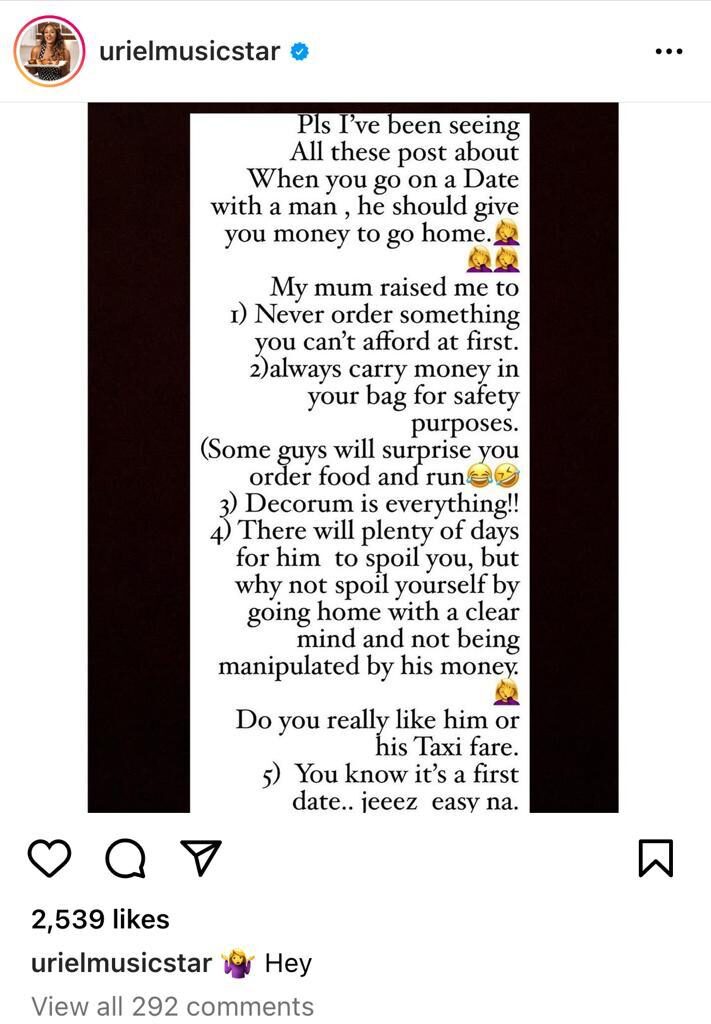 Debbie and Mark debated on this issue.
Watch their reactions and opinion on YouTube @ Max FM Nigeria.
---