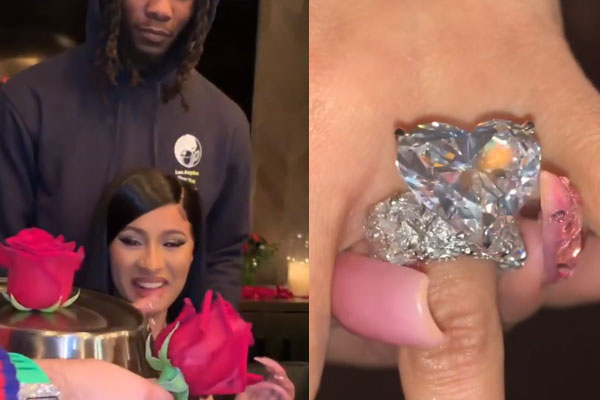 CardiB's husband, offset got the family all iced-out as he celebrated his wife's 27th birthday yesterday 11th of October.
He presented his CardiB with a large diamond ring, one he called the Titanic and got some jewels for their son  Kulture.
CardiB's Husband, Offset, did not disappoint at all in giving her a very memorable birthday celebration.
First a huge dinner spread which featured lobster, a seafood tower, steak, truffle mac 'n cheese and lots more. Rose pedals were scattered about the room for a romantic touch.

Then the blinding present is unveiled … Cardi's hubby presented her with a gigantic diamond ring, appropriately called the Titanic Diamond. It was crafted by NYC-based Pristine Jewelers.
That wasn't all … Cardi also got a giant pendent with a picture of Kulture in the middle, courtesy of her pal, Layton Greene.
CardiB wrote this on her Instagram page;
"Thank you sooo much babe @offsetyrn I can't believe it 😱Deum @pristine_jewelers ! I'm so happy ❤️Soo grateful "
Video:
---