Davido's alleged new girlfriend clears air on rumors
Written by maxfmeditor2 on April 26, 2022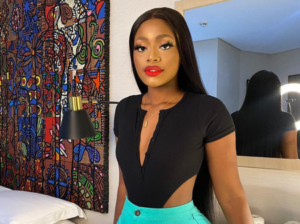 Apparently, Ama Reginald has cleared the air on her rumoured relationship with award-winning singer, Davido.
The dark-skinned beauty was thrust into the spotlight following news of a brewing romance with Davido.
There were speculations that Davido bought the car for her.
It was noted on Monday, April 25 that Ama Reginald had acquired a Range Rover worth millions.
The influencer took to her Instagram page to share a video of herself jubilating over the car.
Amidst the congratulatory messages on her Instagram comment section, we discovered that Davido liked the post.
As expected, people reacted, affirming the romantic relationship between Davido and the lady,
While others urged her to enjoy the singer's money because it was her time.
Addressing their relationship, Ama Reginald's best friend insisted that Davido didn't buy the car for her.
In addition, she stated that Davido isn't dating the socialite nor is there any sexual relationship between them.
According to her, they are only friends and the Range Rover wasn't a gift from Davido.
The friends affirmed that if Davido had bought the RR, Reginald would make it public as there is nothing to hide.
"Does ama hang out with David yes! Has ama fucked David no!
Did David buy the Range Rover for ama No, of course,
Of course, If David bought that Range Rover we will give credit to him, what's there to hide.
---