Genevieve Nnaji dragged for allegedly staying off social media because of her new boo
Written by maxfmeditor2 on May 5, 2022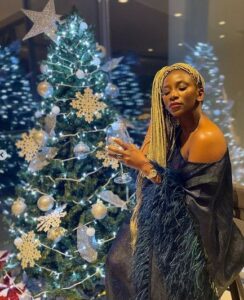 Actress Genevieve Nnaji has been dragged online for leaving social media because of her new boo.
Uche Maduagwu alleged that the actress was staying away from social media because her new boo told her to do so.
According to him, if a woman would agree to stay away from social media because of a man, then there is something more to it.
However, he prayed for her marriage to be blissful like her colleague, Rita Dominic.
Uche wrote,
"Na wa o so aunty Gen Gen Gen man allegedly tell am to stay away from social media and she agree sharp sharp wetin hapun to feminism?
Nothing marriage promise no fit achieve.
I pray e go lead to marriage like Aunty Rita own.
I go love no be small thing, if a beautiful woman fit agree to stay away from social media for a while to please her man then water Dom pass Kpokpo Garri.
Anyways congrats my sister, may it lead to marriage like Rita Dominic own,
To every lady waiting on chineke God for wedding not like Nkechi Ikebe FC honorable audio marriage own,
I mean REAL wedding like Aunty Susu and Banky W own,as you type amen e go happen within 3 months".
This isn't the first time the actor had targeted the veteran actress.
Uche Maduagwu had slammed Genevieve Nnaji for feeding the public lies about her new house.
Genevieve had acquired a Bourdillon luxury apartment in Ikoyi axis of Lagos State.
As tributes poured in for the actress, Uche Maduagwu had took to his Instagram page to tackle her.
The actor claimed that her house was funded by wealthy Nigerian men.
Uche Maduagwu vowed to leave the movie industry if the actress can boldly claim that she bought the house with her money.
According to him, it's been a long time since wealthy Nigerian men have been donating for the luxury mansion.
He added that only those who are more spiritual than physical would understand his message.
---