I go save reveals threat from ubi franklin
Written by maxfmeditor2 on March 30, 2022
Ubi Franklin took to Instagram to warn comedians, particularly Bovi, who are fond of mocking him and including his children in their jokes.
Franklin who shared a video of Will Smith slapping Chris Rock for mocking his wife Jada Pinkett Smith at the Oscars warned that anyone who insults him in the future would face the same treatment.
According to him, he believes that, comedy should not be used to disrespect people on national television.
Calling out Bovi, he stated that the comedian made a nasty joke about him and his kids at 2021 Headies, at a time he was struggling and trying to put his life together.
Responding to Ubi Franklin, I Go Save stated that he is against sensitive jokes while noting that comedians use their craft to speak against social vices in the country.
Although I Go Save did not mention Ubi Franklin by name, he insisted that anyone who gets a girl pregnant, abandons her, and does not pay child support should be used as fodder for jokes in order to prevent others from following in his footsteps.
In response, Ubi Franklin contacted I Go Save, stating that he would reveal his secrets about how he does not care for his family.
Sharing the screenshot of the message on his page, I Go Save wrote:
"AWWN!! I AM AFRAID O! THEY WANT TO EXPOSE ME O! MY WIFE WILL SOON LEAVE ME O! I DEY FEAR FOR WETIN HE GO POST NEXT O! I DEY REALLY FEAR O!
"I NEED PRAYERS & HERBALIST O!"
See post below: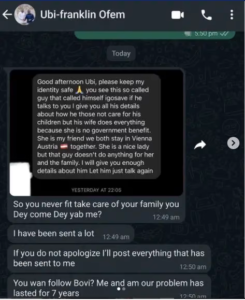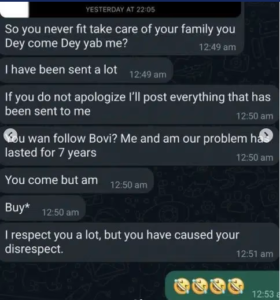 ---