Nollywood actress Iyabo Ojo has responded to reports of an alleged conspiracy and a possible lawsuit against her. In a recent social media post featuring new photos, the movie star also posted a screenshot of a conversation with an individual who informed her about a planned effort to undermine her.
Within this chat, the informant asserted that a consortium of Facebook bloggers had reached an agreement to initiate an online offensive against her for championing justice for the late Mohbad.
"My sister, a group of FB bloggers had an understanding (virtual meeting) to start an attack online against your advocacy for justice in the Mohbad saga. They thought we're part of them, but ignore and keep it. This is confidential. Best wishes".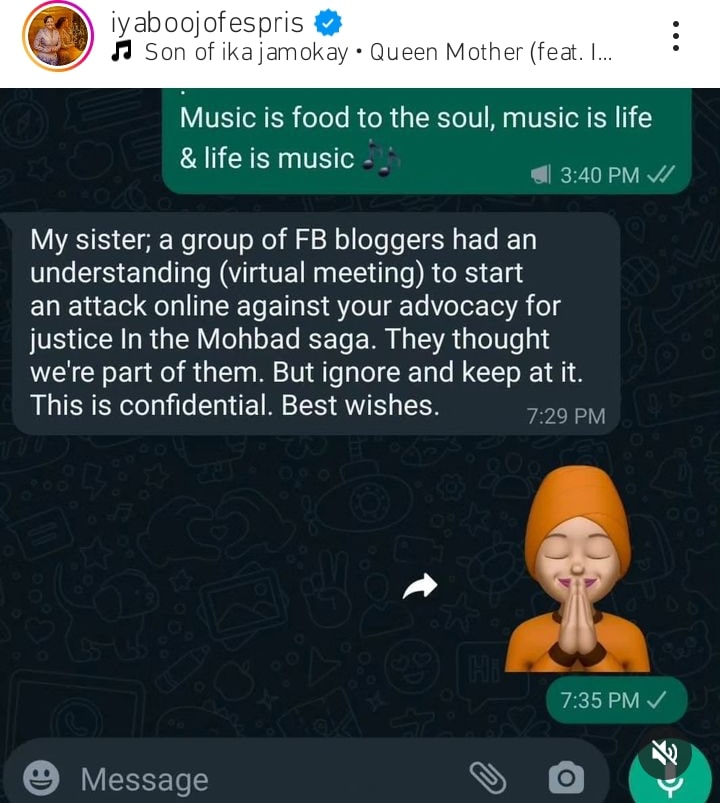 Iyabo Ojo, who has been vocal about demanding justice for the singer, disclosed that she's facing threats of legal action.
In response to these threats, she emphatically stated that she won't back down and is committed to pursuing the case to its conclusion.
Furthermore, she made it clear that no distractions will deter her from her course of action.
"Lol…… ok, if the last slide is true, that one is a normal thing I'm used to…….. but note!!! no amount of distractions, I repeat. NO AMOUNT OF DISTRACTIONS is going to make me back down ………
.
If una like make una off cloth, drink gutter water, mad for street, blog me… your headache ooooo. Monetization is allowed on my name.
…
This justice for Mohbad, we will see it to the end …..
If e sure for una make una pack una sef go SCIID make una go, Panti go complaint…..
….
I hear say una go sue me abi na suya……Ko ni ra gba fun gbogbo yin la pa po….. olopa ma ko everybody las las
isinku yin o ni jere Amin".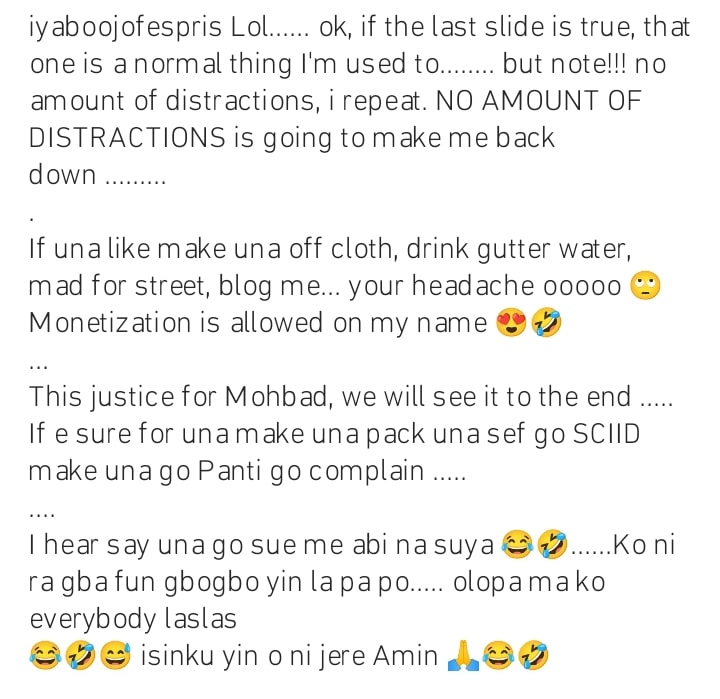 This came hours after the movie star sparked a wave of mixed reactions with her recent revelation about the ongoing case.
In a recent conversation with Daddy Freeze, Iyabo dived into the ongoing online drama between Mohbad's father and his wife, Omawunmi. She confirmed the existence of a brewing battle between the two.
She explicitly pointed out that the root cause of this conflict revolves around certain properties that the singer left behind. These properties are primarily registered in Wunmi's family name, which is the core of the dispute.
Not too long ago, Iyabo Ojo addressed the backlash she faced for documenting the preparations for Mohbad's burial.
Iyabo candidly acknowledged her imperfections but firmly expressed her commitment to living fearlessly, boldly, and courageously. She emphasized her unwavering dedication to speaking out and fighting for justice.
The single mother of two boldly declared that she will persist in voicing her truth, regardless of the narratives woven about her and the hate she encounters.