Nollywood actress, Kehinde Bankole, recently found herself amidst a storm of online ridicule due to her unconventional choice of attire at a much-anticipated movie premiere.
The world of a celebrity isn't always a bed of roses, especially when it comes to the delicate art of dressing for events. The unforgiving gaze of the internet's fashion police is an ever-present specter, poised to critique even the slightest fashion misstep.
This particular Sunday night was marked by the grandeur of a Film One House's movie premiere. The event was held in honor of their forthcoming cinematic offering, "Adire," scheduled to grace theaters on November 3rd.
As the stars graced the red carpet, many brought their fashion A-game, but it was Kehinde Bankole's daring and divisive outfit that stole the spotlight. She made a bold statement with a cut-out dress that left little to the imagination, revealing a striking black bra. This unorthodox choice left a considerable portion of the audience perplexed and led to an outpouring of both disapproval and mockery.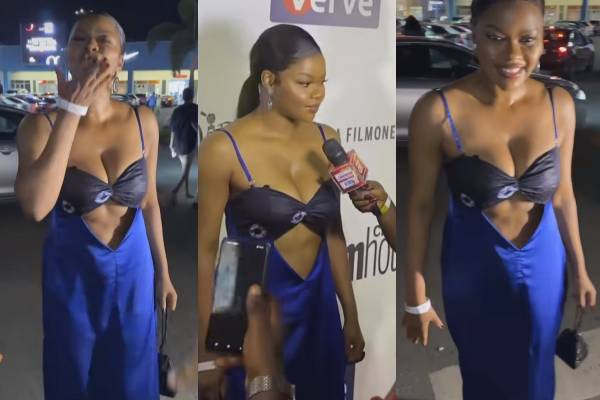 Reactions As 38-year-old Kehinde Bankole Steps Out In Short Gown To Event
Fans and celebrities couldn't help but gush over her as they drop lovely remarks. Top Celebrities like Shaffy Bello, Unlimited LA, and Toyin Haastrup sent love emojis.
A fan said, "You are magnificent my sister. True definition of beauty".
Another fan said, "Wait, how old are you now? It's been a long time coming".
Kehinde has been acting for over 20 years and is well-known for her groundbreaking role in the old Nigerian TV series, Superstory. Over the years, she has been consistent in Nigeria, starring in blockbuster cinema movies and international movies.
She's very creative, beautiful, intelligent, and a good role interpreter.