RIP Tacha: Kemi Olunloyo Wishes BBNaija Star Death, Titans Drag Journalist
Written by maxfmeditor2 on March 1, 2022
Controversial Nigerian socialite, Kemi Olunloyo, has wished death upon BBNaija star, Tacha, on social media.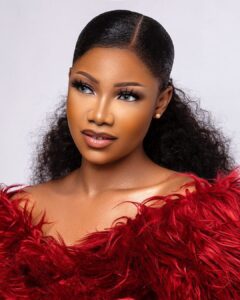 Kemi Olunloyo caused a buzz online after wishing death on BBNaija star, Tacha.
Taking to her Twitter page, Olunloyo posted a shocking farewell message to the reality star when she told her to 'rest in peace and accompanied it with a casket emoji.
Not stopping there, Olunloyo added that Tacha will be dearly missed while saying that depression is real and she hopes the reality star gets the help she needs.
Kemi Olunloyo's posts about Tacha dying was in response to a tweet the reality star had posted months ago.
Tacha had posted that anybody who planned to beat up Kemi Olunloyo should record it.
See Kemi Olunloyo's tweet below: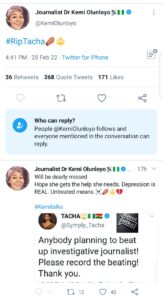 You say things without weighing the consequences… It was things like this that landed you in Kirikiri the other time… I am pretty sure Tacha is too young to be your kid, instead your grandchild… Respect is given to whom respect is due… This isn't professionalism

— Timothy Agbamu 🐢 (@Tim_Envir) February 28, 2022
Be like say you dey craze

— ˢᵀTACHALLION🔱📌 (@iyawo_Oga) February 28, 2022
---