Roman Abramovich banned from selling Chelsea FC
Written by maxfmeditor2 on March 10, 2022
Chelsea owner, Roman Abramovich has been sanctioned by the UK government effectively blocking the sale of the club over Russia's invasion of Ukraine.
The billionaire Russian oligarch will have all his assets frozen, banned from coming to Britain and from doing business there.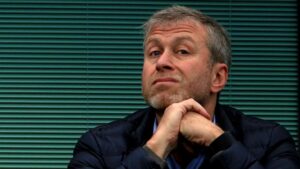 According to UK Sun, Chelsea will be granted a special licence to continue playing but Abramovich will not profit from the club. The club is also not allowed to sell tickets – with only season ticket holders being able to attend fixtures.
In a statement on Thursday, March 10, UK Prime Minister, Boris Johnson said: "There can be no safe havens for those who have supported Putin's vicious assault on Ukraine.
"Today's sanctions are the latest step in the UK's unwavering support for the Ukrainian people.
"We will be ruthless in pursuing those who enable the killing of civilians, destruction of hospitals, and illegal occupation of sovereign allies."
News first emerged last week that Abramovich had listed the club for sale following the outbreak of the Russian invasion of Ukraine. However, the billionaire cannot sell the five-time Premier League champions, and the UK Government would need to give special dispensation for the sale of the club – with Abramovich receiving no money for it either directly or indirectly.
---