Nigerian celebrities falling victim to scams have raised growing concerns. Joining the ranks of those affected is Nollywood actress, Ruth Kadiri, who voiced her frustrations on her Instagram page.
Ruth had engaged in a business transaction with a body shaper and waist trainer brand. However, her ordered goods never arrived, despite her persistent attempts to contact them.
In light of the challenging economic circumstances, Ruth appealed to the brand, requesting either a refund or the delivery of the products.
She expressed her dismay over the lack of response to her messages and reflected on the difficulty of establishing trust in today's world.
"Pls help me beg them to deliver my product or refund me o! Economy is hard o! Jesu!
No responding to my messages anymore!!!!
Trust is hard these days o".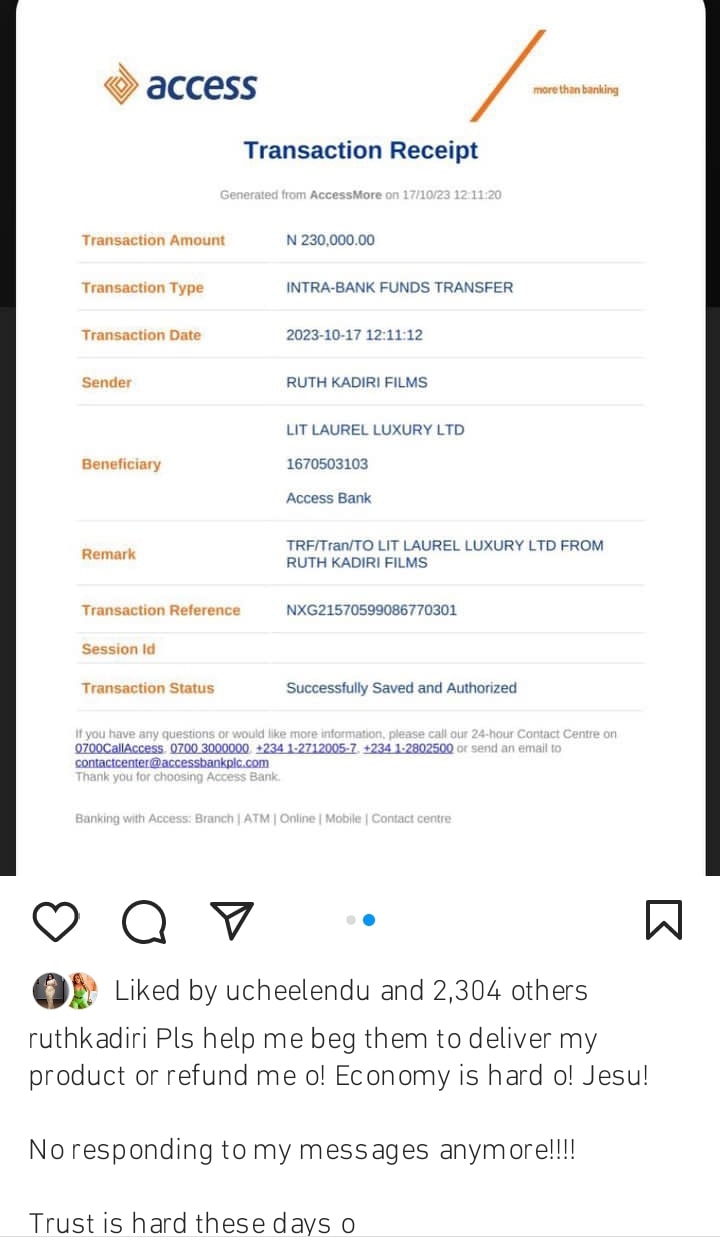 Taking to her comment section, some of her colleagues like Uche Elendu lamented over how she fell into a similar incident but had to drag them before getting a refund.
Uche Elendu wrote, "This people's scam is on another level. That's how I dragged them until they refunded my client's money. Get your money first babe
One Official Passy Kpaduwa wrote, "Imagine scamming a celebrity, people get mind oh
One Ada Sylva wrote, "Go to the bank and recall the money and also write a complaint
One Official Mirabel Etuk wrote, "Most of these online stores are fraudulent I can't even count the number of online stores that have defrauded me, making it difficult to trust the real ones. Mtchewwwwww
One Marvelous Tyna wrote, "If they can do this to a celebrity, how much more an ordinary person? Patronize them at your expense
One Glow By Mo Organics Skincare Palace wrote, "There is something called integrity. Imagine a celebrity shopping from you and you mess up the opportunity
Ruth Kadiri, like many other celebrities, has raised concerns about falling victim to scams. Just a few weeks ago, Nkechi Blessing Sunday went through a similar ordeal when she was deceived by an Igbo man.
Nkechi Blessing took to Instagram to share her frustrating experience with an online vendor, who coincidentally happened to be of Igbo descent. She disclosed that this online vendor, who scammed her, started bombarding her with death threats and heavy curses, leveraging sensitive information he had about her.
Notably, news of Ruth Kadiri's scam experience surfaces shortly after she successfully recovered her allegedly stolen Range Rover Autobiography. She recounted the incident that led to the theft of her car and how, with the assistance of entrepreneur Ned Nwoko, DJ Dorcas Fapson, auto dealer IVD, and others, she managed to reclaim her vehicle.