Social Media Inlaws Reacts To Singer Ne-Yo's Post On Privacy
Written by maxfmeditor2 on August 1, 2022
Social media inlaws  has reacted to Ne-Yo, a musician and record producer's post on twitter about his marital problems. Ne-Yo made apost asking that people allow his marriage issues to be resolved privately as he doesn't want to drag his children and family in the social media or public space.
Ne-Yo's wife Crystal Renay had accused him of having unprotected sex with multiple women he pays to sleep with while cheating on her. She claims she has gone through a lot just to maintain her marriage, but she has reached a point where she has decided to put her happiness above all else.
Crystals Accusation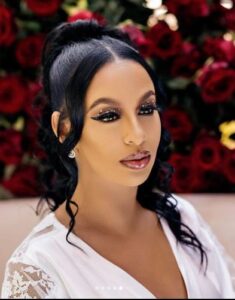 Crystal Renay fiercely requested that anyone bringing her proof of her husband's infidelity stop doing so because it is no longer her concern.
Crystal stated that the only beautiful thing she got from her union with Ne-Yo are their 3 beautiful kids. She stated emphatically that she refuse to stay in a place where she can't be loved as she deserves, hence she has decided to love herself. Her words:
"8 years.

8 years of lies and deception. 8 years of unknowingly sharing my life and husband with numerous of women who sell their bodies to him unprotected… every last one of them! Tosay I'm heartbroken and disgusted is a understatement. To ask me to stay and accept it is absolutely in sane.

The mentality of a narcissist. I will no longer lie to the public or pretend that this is something it isn't . I choose me, I choose my happiness, and health and my respect.

I gained 3 beautiful children out of this but nothing else but wasted years and heartache. I ask that you all please stop sending me videos or information of him cheating because what he does is no longer my concern.

I am not a victim. I'm choosing to stand tall with head held high. If someone can't love you the way you deserve then it's up to you to love yourself. With no hate in my heart, I wish him nothing but the best.~ Crystal Renay"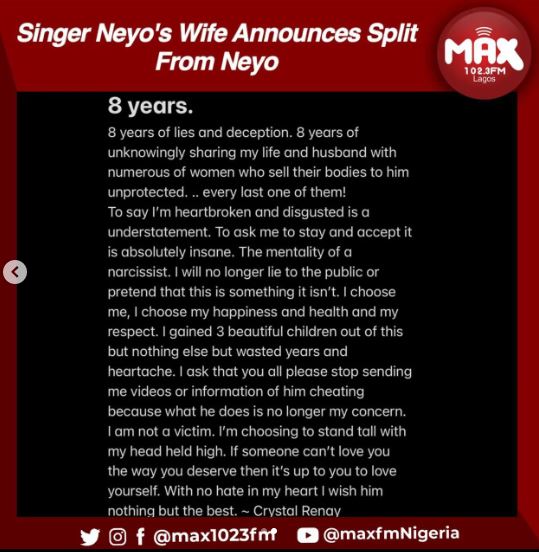 Neyo decided to tell everyone to stay off his business and give him time to work out his problems after viewing their comments on his wife's post. He stated:
"NE-YO
@NeYoCompound
"For the sake of our children, my family and I will work through our challenges behind closed doors. Personal matters are not meant to be addressed and dissected in public forums. I simply ask that you please respect me and my family's privacy at this time."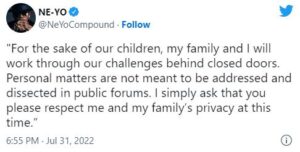 Ne-Yo received harsh criticism on social media from his social media in-laws who claimed that because he disrespected his wife in public while misbehaving, he lacks the authority to demand respect from other people. Here are some of their comments and reactions to Ne-Yo's post:
"Alpha female
@kfcharmian
Where you respecting anyone when you were crying for R-Kelly just now? We have already seen your dirty pent and will continue to talk about it."
"Thee Hyuga Daddy 🍃
@Tymeline_Terror
This is funny cause he has no issue telling anyone else's business to the public."
"@Miss_Ttee
You had unprotected sex with multiple women and you want to talk about respect 😭
Men aren't real people."
"MaTama
@MMatama
One you're the ones who told us.
Two, why the quotation marks?"
"Maddie Goodman🌹
@MGoodz14
for the sake of your children, you don't cheat in the first place & you don't get to ask for respect or privacy when you publicly disrespect someone you've committed vows to. MORON."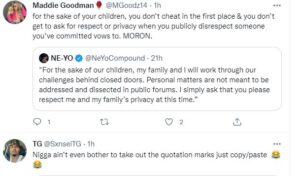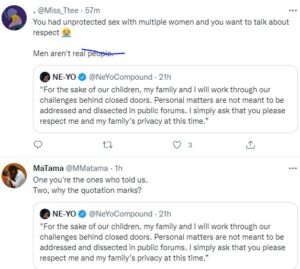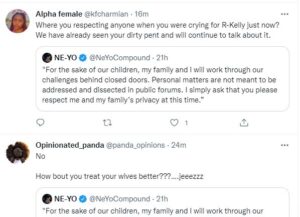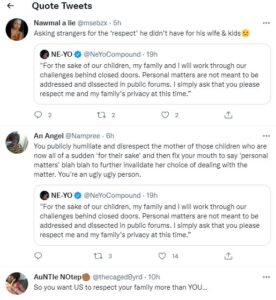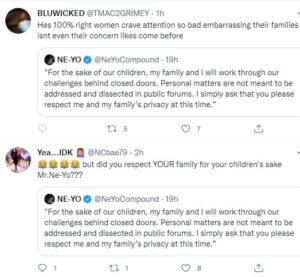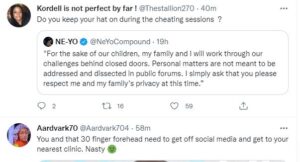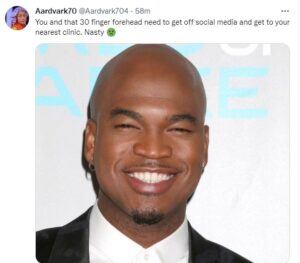 ---