Stop Spreading This False Narrative: Kim Kardashian Calls Out Kanye
Written by maxfmeditor2 on March 16, 2022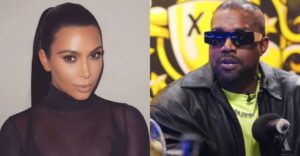 Kim Kardashian is tired of the "narrative" Kanye is fueling about their custody agreement and Kim called him out on social media about it.
Kanye spent another weekend blasting his divorce drama on Instagram. The rap/fashion mogul's latest frustration stems from a reported scheduling conflict he had with Kim over their kids. But after watching Kanye put so much of their family business on public display, Kim took to his Instagram comments to add some clarity.
Kanye sent out a series of Instagram posts on Sunday venting his upset over Kim and North West's latest TikTok video.
He also aired out their latest custody disagreements as part of them sharing joint custody of their four children. Things only got worse when Pete Davidson reached out to Kanye to defend Kim.
Kanye's latest attack came after his new music video took direct aim at Pete. It also came after Kim was declared legally single and dropped "West" from her latest name.
Instead, the reality TV star lashed out at the rapper following another embarrassing Instagram post.
---