Timini Egbuson speaks out on relationship allegations from Lydia Balogun
Written by Max1023fm on August 18, 2021
Timini Egbuson finally spoke out about the allegations against him and his ex-girlfriend, Lydia Balogun.
Lydia Balogun had called Timini out on social media where she described him as a pervert and predator.
Timini Egbuson took to his Twitter page on Tuesday, where he reacted to Lydia's allegations.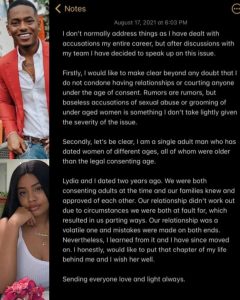 "Lydia and I dated two years ago. We were both consenting adults at the time and our families knew and approved of each other. Our relationship did not work out because of circumstances we were both at fault for," he wrote.
Read more about this on our website…
---