Victoria Azarenka Receives Wild Card For Australian Open
Written by MaxFM on December 13, 2017
Victoria Azarenka Receives Wild Card For Australian Open
Victoria Azarenka seems to be more eager than ever to come back to competitive tennis. The former world no. 1 is still involved in a legal battle with her former boyfriend Billy McKeague for thei son Leo's custody, but she is still trying to make tennis her priority again and after taking a main draw wild card for Auckland, she has now received a wild card fromm the Australian Open too.
Azarenka, who won 2012 and 2013 titles in Melbourne, can't travel with Leo outside California until the precess ends, and so its unclear if they can still be together in Januaryin New Zealand and then Australia. It's difficult to imagine Azarenka playing official matches in January with Leo being at home in Los Angeles.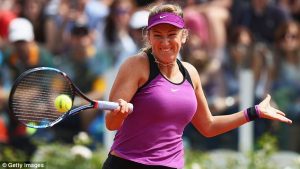 Still, through a statement, as quoted by New York Times, the Belarusian seemed to be pretty confodent about being there.
'Its been a tough year and being able to come back to the AO will be a really positive way to start 2018.
I'd like to thank Craig and his team for their understanding and support and can't wait to see all my Aussie fans again,' said Azarenka, who recently split with her coach Michael Joyce, who now coaches Johanna Konta, and her fitness trainer Ashcon Rezazadeh.
The Australian Open tournament director Craig Tiley said: 'Vika's current situation is obviously very difficult for her, and we have reached out to offer any support we can.'
---