In a recent blog post, Yoruba Nollywood actor Saidi Balogun raised some eyebrows as he publicly addressed actress Wumi Toriola and skitmaker Kiekie.
The veteran actor shared a snapshot from a movie set, featuring both of them, and humorously questioned his involvement in Wumi Toriola's pregnancy. The photo revealed Wumi Toriola sporting a baby bump, creating the impression that Saidi Balogun is the expecting father.
Saidi Balogun questioning how he got Wumi Toriola pregnant, declared that God would judge them.
"@kie_kie__ God will judge you; and @wumitoriola, I no come, you no come, how pregnancy take come?".
His post stirred laughing emojis from his fans.
One Official Japh Media wrote, "I no come she no come, how come pikin show
One Dr Sa Oladimeji wrote, "Daddy you come if you no come how come Wunmi is pregnant
One Fatolib wrote, "This Bro still funny! You've been very funny all the way".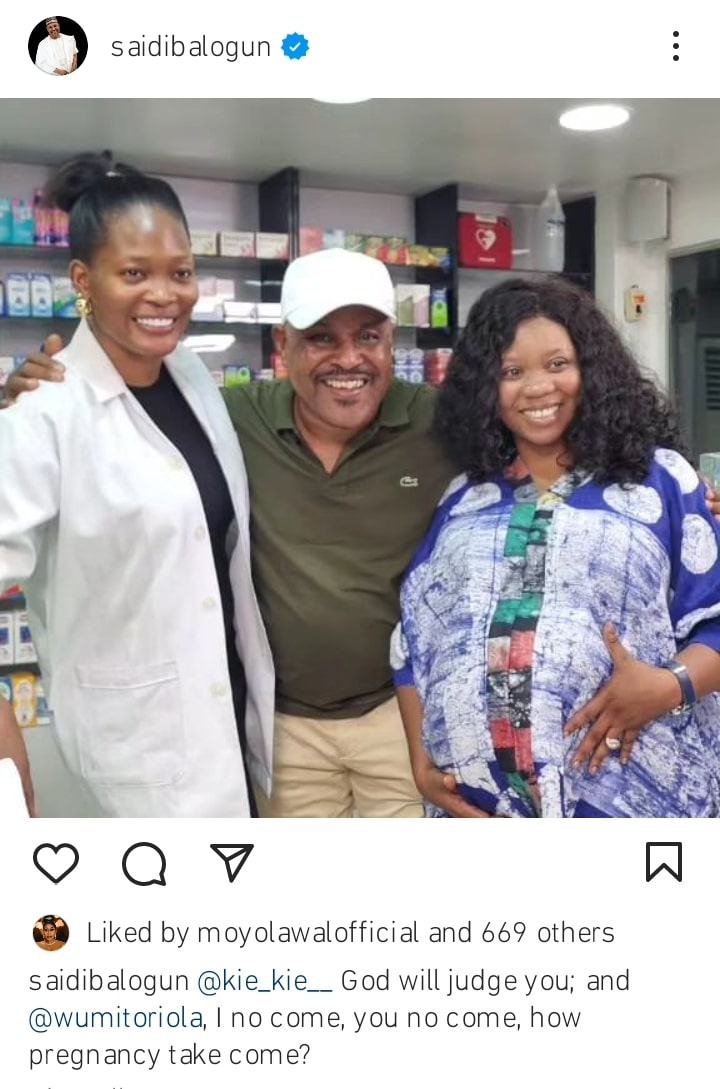 A few days ago, Saidi Balogun took to his Instagram page to share a profound message, which immediately stirred reactions among his fans.
In his post, Saidi Balogun emphasized that individuals who harbor negative feelings can only discern trouble because they remain oblivious to the private struggles one endures.
He also highlighted the resilience of those whose strength has wavered in the face of apparent lack of love and support but have found solace in the affection of someone who truly values them.
In a subsequent update, Saidi Balogun composed a compelling message addressed to money, urging it to remain by his side.
As the former spouse of Faithia Williams, he made it clear that he doesn't subscribe to the notion that money is the root of all evil, pointing out that it's people who give money a bad name. He passionately appealed to it, inviting money to stay with him and his devoted fans.
Notably, last year, Saidi Balogun vocally called for the implementation of measures to safeguard actors in the industry. His call to action was prompted by a distressing video of actor Taiwo Hassan, popularly known as Ogogo, being harassed in Ilaro.
Expressing his concern, Saidi Balogun questioned when such unwarranted mistreatment of artists would cease, deeming it an increasingly absurd situation.