Asake's Terminator Hits Over 1million Views in Less than 24 Hours
Written by maxfmeditor2 on August 19, 2022
Just few hours to releasing the Audio and Visuals For 'Terminator' By Asake, YouTube is already blowing up with views on the latest video release.
The new mansion owner Mr Money posted on his Instagram handle early hours of today 19th August 2022 the release of his new single.
Advertisement

Informing the public, Mr Money requested everyone to go stream and watch his new song video titled 'Terminator' produced by Magicsticks Beat and video directed by TG Omori. His caption reads:
Advertisement

"My new record Terminator is out now (video/audio)

Prod. @magicsticks_

Dir. @boy_director

Advertisement

C/w. @olamide

Link in bio for Single & Presave my Album #MMWTV (Mr.Money With The Vibe)"
Advertisement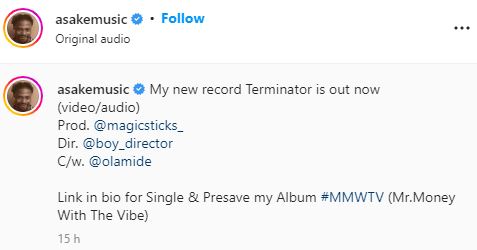 In less that 24 hours, the Youtube views on 'Terminator's' video has hit over One million views with comments from fans on how proud they are of Asake for releasing hit, back to back in one year.
Advertisement

According to one of his fans, while still trying to learn the lyrics of his new song, he decided to bring out another one which is hotter. Nolly Great Movies mentioned how proud he is of Mr Money releasing back to back hit music. In his own words:
"Nolly Great Movies

Advertisement

1 hour ago

It seems Asake is owing someone a huge sum of money cos these backk to back bangers are too much , na. We're not even done learning lyrics to his other songs, boom, another fire banger 🔥🔥 Love to see it. Big shout out to TG Omori for this creative video and to that beautiful lady, she's really amazing and beautiful. Blessings upon all!!"

Advertisement
The lone Genius continued that you enjoy Asake's music so much that you have no choice but to repeat playing his songs. According to him:
"The lone Genius

Advertisement

10 hours ago

There's no way you'll listen to Asake without pushing the replay button over and over again. The man is a force of nature."
Advertisement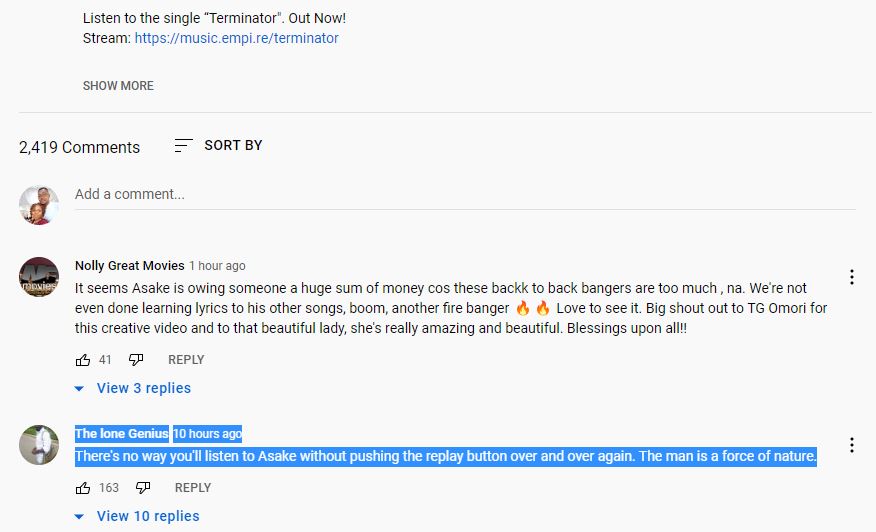 FireBoy with joy has gone ahead to name Asake the artist of the year.
Advertisement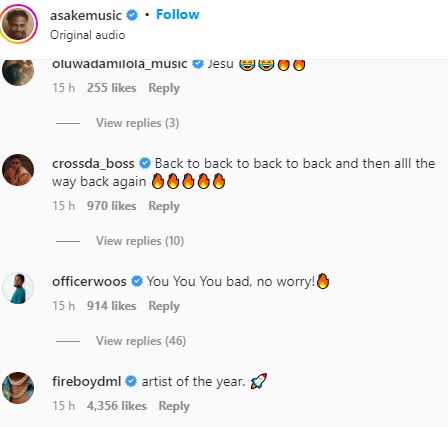 Do you think this would be a reality when the time for awards comes. Let us know in the comment section.
Advertisement

https://www.instagram.com/p/ChaxYjzFH-C/
Read more:
Advertisement

https://www.max1023.fm/don-jazzy-other-celebrities-congratulates-asake-as-he-buys-himself-a-new-mansion/
---