DJ Cuppy reveals why she never loses weight despite going to the gym
Written by maxfmeditor3 on August 30, 2023
In a candid disclosure, DJ Cuppy has recently used her Instagram story to provide insight into her genuine intentions behind her gym visits. In a departure from the typical motivations of fitness enthusiasts, DJ Cuppy candidly revealed that her main reason for going to the gym is to take selfies, with the occasional participation in weightlifting.
Contrary to the assumption that her gym visits are solely motivated by a desire to achieve physical fitness, DJ Cuppy confessed that her primary motivation is capturing selfies. While many might expect intense workout sessions and rigorous training, DJ Cuppy's refreshing honesty has unveiled a more lighthearted approach.
In her own words, the well-known DJ and artist unabashedly admitted that while she does occasionally partake in weightlifting sessions, the real thrill for her lies in the opportunity to capture striking selfies.
This refreshingly sincere revelation about DJ Cuppy's attitude toward fitness offers a glimpse into her light-hearted viewpoint on exercise. The renowned DJ and artist openly acknowledged that while she does engage in weightlifting on occasion, the allure of capturing captivating selfies remains her primary driving force for her gym attendance.
"Motivation Monday (1 mainly go to the gym to take selfies, with the occasional weight being lifted)LMAO #CuppyOnAMission"
Despite the end of her engagement, Cuppy's radiant demeanor and positive outlook have not wavered. Instead, she has embraced this new chapter in her life with grace and confidence, appreciating the opportunity to rediscover herself and bask in her own individuality.
She wrote, "That post-break-up glow is truly something".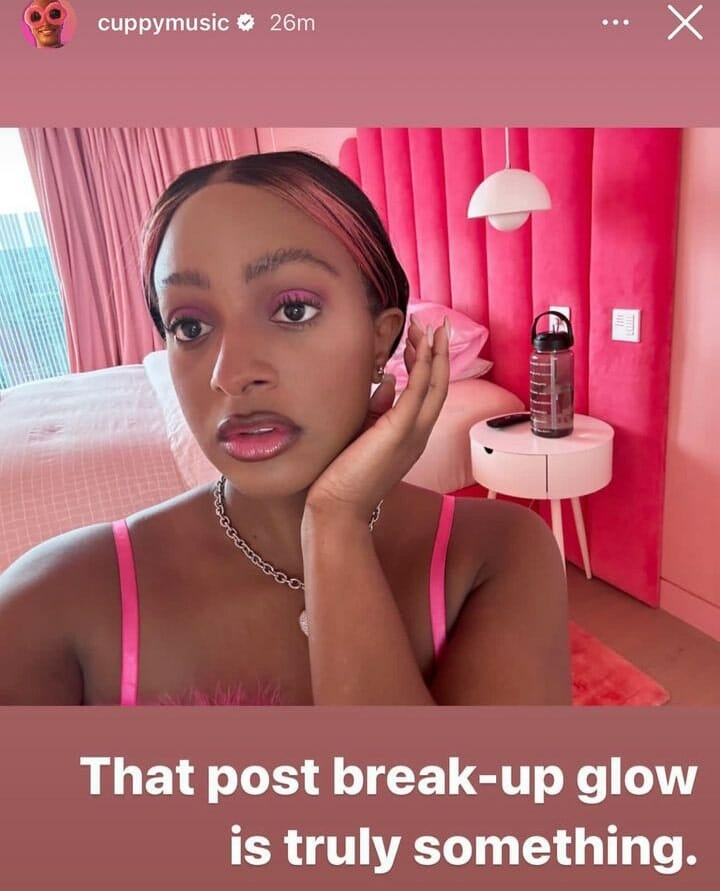 As the daughter of the prominent Otedola family, Cuppy's public persona has often been under the spotlight. However, through her post-breakup glow, she reveals a side of her that is relatable and down-to-earth, endearing herself even more to her fans and followers.
While the specifics of the breakup remain private, Cuppy's ability to gracefully move forward serves as an inspiration to others navigating their own personal challenges. Her lightheartedness and self-assuredness in the face of change showcase her resilience and strength.
---