Drama as Angela Okorie spills what her colleagues did for fame
Written by maxfmeditor3 on July 17, 2023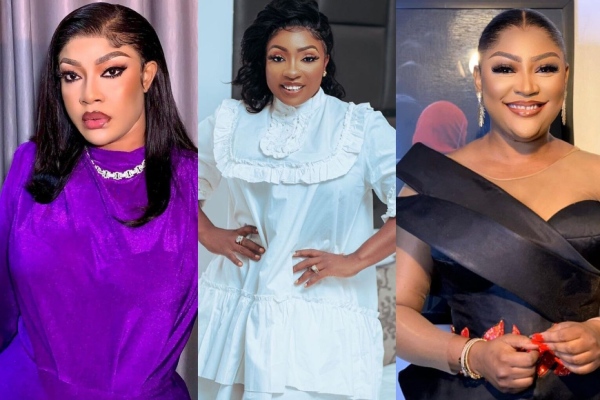 Nollywood actress Angela Okorie has recently reignited her dispute with her Nollywood BFFs, Anita Joseph and Uche Elendu.
In a series of posts on her Instagram story, Angela Okorie made a bold accusation, alleging that the BFFs resorted to engaging with a native doctor in pursuit of fame.
Promising to provide evidence, she disclosed that a third individual, who was present during the regrettable incident, had confessed to the act.
Additionally, Angela Okorie asserted that Anita Joseph, despite being married, was involved in promiscuous behavior.
"I never post the one wey Anita/Uche go sleep with native doctor for fame. I dey fine with prof. The Oyibo girl you follow una go don repent turn to God she doesn't lie. I dey come o. Married women go just dey knack anyhow. Dem dey post church wey dem go, u dey come with full vawulence".
In another post, Angela Okorie reiterated that Anita Joseph is an adulterer as she slammed her for lacking dignity.
"I never Post episode 1 to 100 Dem dey run kiti kiti. All of una repent this night cos if they know the Vawulence that is coming e go touch all of them wey do me dirty including aunty.

That likes to be singing worship, gossip is her style that's why she is everywhere. No dignity and respect as a married woman. Just dey knack up and down. Na me he una Karma I dey come".
In another series of posts on her Instagram story, Angela promised to spill more about the Bffs.
"Una know say I no like trouble e no mean say we dey fear anybody. No underate me 2seconds everywhere go burst, see I like to stay on my own. Some people say is boring, but that boring life has saved me from a lot of these fake friends, no lies".
"The evil you support today might walk against you tomorrow. Call out evil everywhere you see evil. Good morning fam".
Angela Okorie attacks Anita Joseph, issues stern warning to others
Sharing a photo of Anita Joseph, who is best friend with Uche Elendu, the actress called her the most useless of her friends. However, her husband, MC Fish is a good guy, hence why she is holding back.
Angela Okorie vowed to use any of her colleagues, who interfere in her beef with Uche, as a scapegoat.
They were mocking me in my pain" Angela Okorie blows hot, shares disturbing video
In a previous post, Angela Okorie opened up on the cause of her fight with Uche Elendu.
While slamming blogger, Gistlover, over its allegation that their beef was about a man, Angela made it known that she isn't fighting her colleagues over men.
She revealed that she is on bad terms with the said colleague, probably Uche Elendu, because she recorded a video of her during her trying times and sent it to blogger, Stella Dimoko Korkus.
She questioned what kind of friend videos her friend in her condition and sends it to bloggers. She noted how they were mocking her in her pain.
Spilling further, Angela added that they pretended to love her, yet were envious of what God has put in her.
---