MAX LAUGH: REV FADAMAZZI EMERGES THE WINNER OF THE MAX LAUGH GRAND FINALE
Written by Max1023fm on November 2, 2021
In every race, there is always an end and a winner. Max laugh contest has finally come to an end and a winner has emerged.
Out of 20 contestants that came on this contest, we had our top five contestants and our top three contestants. Our top three contestants in the person of Sir Jones, Omah Igala and Rev Fadamazzi.
The grand finale was held at the Max FM office on the 29th of October, 2021 where our top three contestants came to battle for who would be crowned the winner.
Rev Fadamazzi emerged as the winner of the first-ever Max Laugh Contest after a fairly done competition, he was crowned the winner.
The judges for the grand finale were no other than Wale Pow Pow Pow, OfficialOwengee, and KoffithaGuru who used their expertise to judge the contestants fairly.
In attendance at the event, were our sponsors Rosemont Properties,  Minimie Nigeria and Rubels & Angels who awarded the winner with the wonderful prizes, a speech of appreciation from the AGM in the person of Mr Marvin Arimi was given.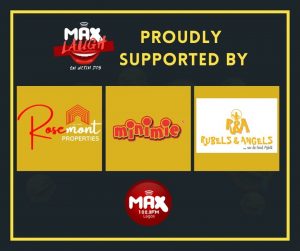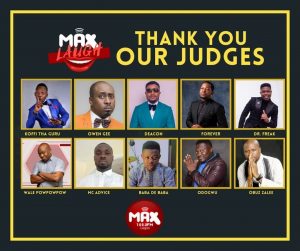 Max Laugh initiative is empowering young talents looking to pursue a career in the comedy industry and giving them a platform to showcase their selves. This contest will motivate other up and coming comedians to keep pushing and storm the comedy industry with a wave of new and fresh perspectives to the comedy industry.
The grand prize presented to the winner was a 500 square meter plot of land worth 1.3M naira courtesy of Rosemont properties, a year contract to perform on every A list comedy show and show other mouthwatering prizes.
---