Sam Larry Slams Portable and Separates Himself Over "One Million Boys" Founder Claim
Written by maxfmeditor2 on July 19, 2022
Sam Larry has disproved claims made by self-described "wahala" singer Habeeb Okikiola, a.k.a Portable had earlier stated. Portable claimed to be the leader of the notorious cult groups Ajah Boys and One Million Boys that terrorized residents of Lagos State and Ogun State.
He corroborate his point, Portable mentioned that Sam Larry was one of the people has seen his influence on the cult.
"Open your ears and listen well, have you heard about Ajah boys, One Million boys? I'm the one who founded it, go and ask. Go and ask the likes of Sammy Larry," the singer boasted in the Yoruba language"
However, in a 58-second video that went viral on social media, the prominent music promoter, speaking in Yoruba, contradicted Portable's claim. Sam Larry revealed that he is only a music promoter to Portable and had only helped him in his music journey.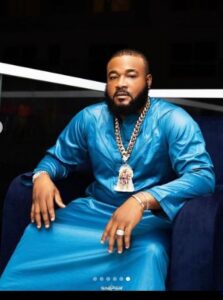 See his statement below:
"In regard to the trending topic about 1 Million Boys.. I am a promoter and I only knew @portablebaeby few months ago when he released the trending song Zazoo.. I took him for a show in Kenya and also in Dubai .. Please I advise everyone to disregard what he said stating I and 4 others mentioned knew about him been the founder of 1 million Boys .. I don't have any association to the criminal group which caused pains and havoc to us during the lockdown and I also made a call through to @portablebaeby that I have cancelled all ties with him and he should never contact me again because this is a big stain to my name.  "Henceforth, don't ever call me. I will even block you too.

"My wife's family and other people have been calling to ask me what is the meaning of One Million Boys Portable mentioned my name about? Please correct yourself because I don't know you,"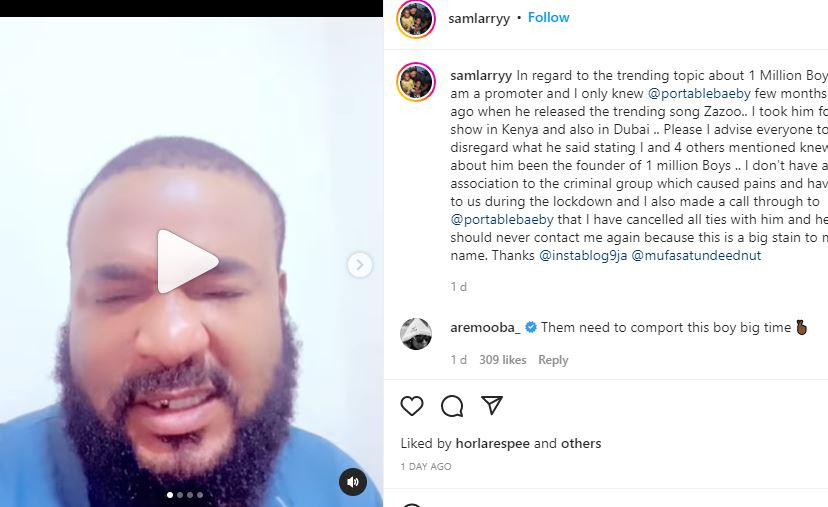 In anger Sam Larry warned Portable in the series of video he posted via his Instagram handle.
https://www.instagram.com/p/CgKZHkrqhiy/
Could this be a tactics to avoid the real deal here or Portable is actually just blabbing. One million Boys was really a big deal. Will authorities take this seriously or consider it to be one of the usual social media jokes.
Read More:
Singer Portable Welcomes Second Baby With Bundles Of Cash
---