Singer Portable Denies Claims Of Founding 1million Boys
Written by maxfmeditor2 on July 19, 2022
Singer Portable, a contentious artist in Nigeria who has frequently been at the center of unpleasant circumstances, has refuted past statement. He has earlier accused himself of founding the One Million Boys and Ajah Boys cults, which terrorized the people of Lagos and Ogun State in the year 2020.
Singer Portable on his Instagram post explained what he actually intended to say. On the video he posted, he revealed somethings.
This happened not long after Sam Larry's video of him challenging Portable's accusation of his knowledge about the cult went viral. Portable claims to have no knowledge of the million boys with whom he was merely cruising with his statement.
According to him, he had been receiving threats from authorities which is why he had to quickly made the video. See what He said:
"
This has come to an end that I have to voice out… please everyone I wana let you know that I didn't meant to campaign for APC it was a show they told that am going to before I saw myself in APC office and as a man no need to worry I gats to do the job since it involved money . And what I meant by 1million boys is meant 1million followers . People are threatening my life ooo you should all look into this. I GO BY THE NAME PORTABLE OMOLALOMI, I DO MUSIC FOR LIVING"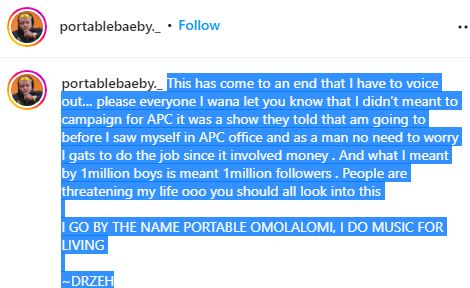 https://www.instagram.com/p/CgLnb_otzbB/
On Sam Larry's earlier post, Portable was seen in a chat he revealed begging him not to be angry over the statement he made of his knowledge about him knowing the influence he had on One Million boys. He stated:
"Boss no vex na cruise me I dey do

Akoi million fans

Na Steliza tell me say you dey vex

I dey loyal boss

no vex

I nomean am like that"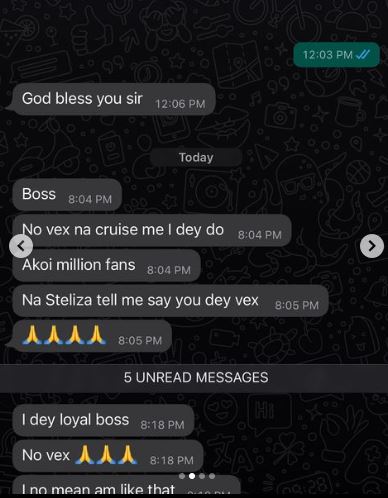 Singer portable I known for getting himself into trouble, could this be one of those or he has actually found himself in deep trouble. Do you think statement like this should be brushed off or authorities should look deep into it?
Read More:
Sam Larry Slams Portable and Separates Himself Over "One Million Boys" Founder Claim
---