Tonto Dikeh mocks Busola Dakolo for demanding N10m cost of action fee from Fatoyinbo
Written by MaxFM on September 10, 2019
Following the rape allegations by singer Timi Dakolo's wife, Busola, against popular pastor of The Commonwealth of Zion Assembly (COZA) pastor, Biodun Fatoyinbo, which made rounds on social media recently as many popular personalities took a stance on the issue with a number of them clamoring for justice.

Nollywood actress, Tonto Dikeh, who was noticeably quiet during the uproar  has now broken her silence on the alleged rape case between Pastor Biodun Fatoyinbo and Busola Dakolo in an Instagram post.
According to reports from Channels TV, Busola Dakolo in pursuit of justice demanded for a clearly worded apology on the front pages of two national newspapers for seven consecutive days as well as a personal apology showing Biodun Fatoyinbo's honest regret for his misdeeds. The claimant also demanded for a N10 million cost of action fee.
The part of the demands which seemed to picked Tonto Dikeh's interest is the N10 million cost of action fee. In an Instagram post, the actress posted several laughing icons as she explained that money is the root of all evil.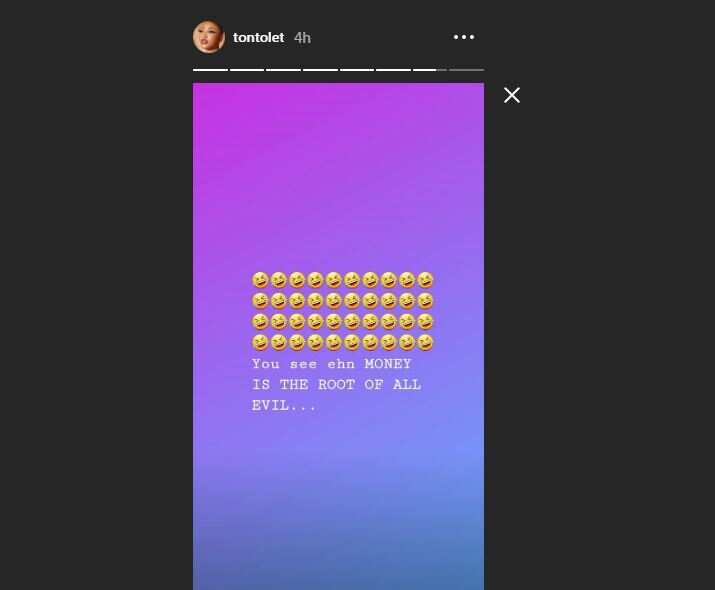 Source; Instagram
In the caption of the post, Tonto also asked one of her friends to give her a bottle of Krest and PuffPuff. Many have assumed the Krest reference to be a snide comment mocking Busola's claims seeing as she accused the pastor of forcing a bottle of Krest into her mouth after his alleged rape took place.
See post below;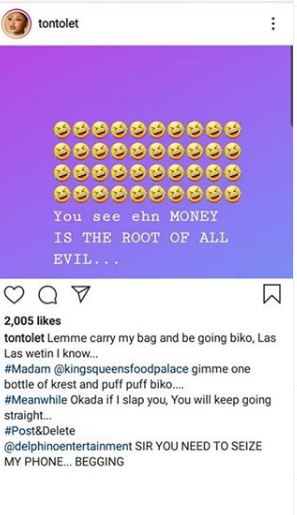 ---