yul edochie mocks critics
Written by maxfmeditor2 on April 30, 2022
Nollywood actor, Yul Edochie has mocked those who are criticizing his decision to take a second wife but never supported his political ambitions.
The actor who had earlier announced his intentions to run for a presidential post come next general elections in 2023, took to his Instagram page to laugh at his critics.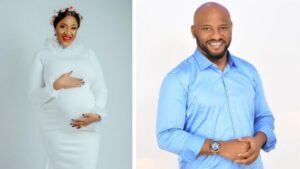 "So, I fit break internet like this? So, I can get over 60,000 comments on one post? But I dey act film, dey give Una Hollywood performance since, Una no send me. Best voice Una no send me. I ran for governorship, Una no send me. I have been a strong voice for the people, been an activist. I do endsars Una no send me.  I wan run for President Una still no send me. But na this one scatter internet. Na this wan come make Una send me finally. Na wa for Una o," he wrote.
Yul on Wednesday went public with his second marriage, adding that his new wife already had a son for him.
The actor's first wife of 17 years, May, has since unfollowed her husband on Instagram, after his announcement.
Reacting to the news of the marriage, the mother-of-four called down the judgement of God on the latest couple.
Taking to the comment section of her husband's announcement post, May wrote, "May God judge you both."
Apparently, Yul took to his Instagram page to hail himself as a "real" man who owns up to his responsibilities.
---